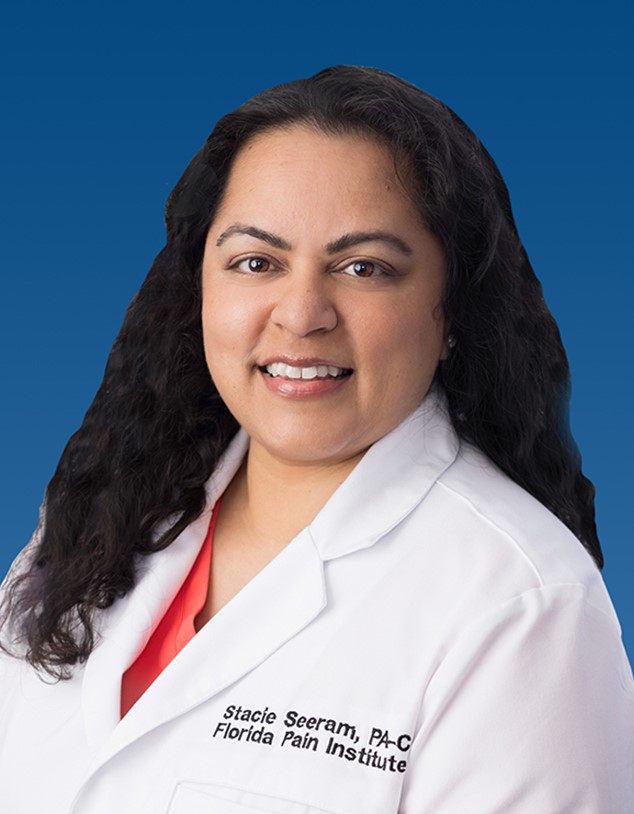 Stacie Seeram is board certified through the National Commission on Certification of Physician Assistants and has been practicing since 2007.
In 2006, she received her Bachelor of Science in Physician Assistant Studies from City University of New York, graduating magna cum laude.
Following graduation, Stacie worked in outpatient Internal Medicine for 3 years. She then went on to complete a Post Graduate Surgical Residency at Duke University Hospital, followed by work in a multispecialty surgery group in North Carolina for several years. She later returned to Vero Beach, where she grew up, and resumed a career in Surgery with part time work in Physiatry and Pain Management. She has operated in more than 12 specialties including spine, neuro, orthopedic, and vascular surgery.
Stacie's professional organizations include American Academy of Physician Assistants and American Academy of Pain Medicine. She has also been on medical mission trips to Chiapas in the field of primary care.
In 2020, Stacie joined the team of clinicians at Florida Pain Institute to provide care to patients with acute and chronic pain conditions. She will be seeing patients at our Palm Bay office.