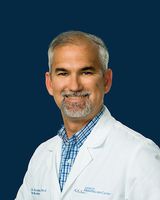 Mr. Timothy Rocklein began his career not in medicine, but as a Counterintelligence Agent with the US Army.  After starting with the Foreign Intelligence Activity at Fort Meade, he completed additional college training and become commissioned as a Military Intelligence officer, with assignment to the 1st Infantry Division.  While deployed to the Balkans, he got his first experience in medicine by assisting the local indigent civilian population as part of the Army's local MEDCAPs (Medical Civilian-Assistance Programs).  This sparked his love for helping people through medicine and was the impetus behind his progression into medicine as a PA.
Mr. Rocklein graduated from Midwestern University in 2012 and started his first position as a PA with a respected neurosurgery group.  Here he gained valuable experience assisting with lumbar and cervical spine surgeries and treating other non-surgical spine and peripheral nerve conditions.  From here he moved into interventional pain, where he uses that surgical experience to help diagnose and treat chronic, painful conditions.
He approaches each patient as if he was treating his own family; with an emphasis on educating patients on not only what is wrong, but on what treatments are currently available and on what they can do on a daily basis to improve their overall quality of life.
He is blessed with a beautiful and wonderfully supportive wife of 25 years, Robyn, who is his love and lifelong partner.